Youth Interactions
Location - 2, Mahadev Road.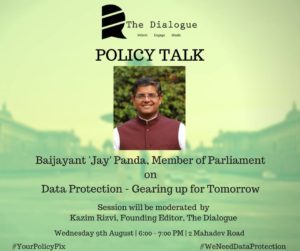 Today, personal data is being collected and processed at a very large scale. Every application and website we use collects and processes our personal data. Our personal data is vulnerable to any non-State actor, private entity around the globe with the technological know-how to access and process this data unlawfully. With the advent of technology in every sphere of our lives, data protection has emerged as a crucial policy challenge. With this in mind, Shri. Baijayant 'Jay' Panda, MP from BJD, introduced the Data (Privacy and Protection, 2017) Bill in the Lok Sabha as a private member's bill. While at the same time, a 9 judge bench of the Supreme Court will soon decide on the legality of data protection.
The office of Shri. Baijayant 'Jay' Panda invites young students (graduates and post-graduates) for a one hour talk with Mr. Panda, hosted by The Dialogue, to discuss and deliberate opportunities and challenges on data protection in India.
Date and Time: 9th August, 6-7 PM.
Event Venue: 2, Mahadev Road (Behind Patel Chowk Metro Station).